Pipeliner CRM is designed so that implementation and training (for administrators and users) happens faster than for most CRM solutions on the market today.
In fact, statistics show that Pipeliner can be onboarded in a fraction of the time—and at a fraction of the cost—of our chief competitors.
Many companies around the world have found that they were able to onboard Pipeliner CRM without any assistance. Plentiful information is available through our Pipeliner Help Center to get you up and running. The Get Started with Pipeliner page has a complete list of guides and tutorials.
However—if you need it, rapid, expert help is available from our crack support team for any phase of Pipeliner CRM implementation:
Setup – Getting Pipeliner properly configured and customized for your company, and getting Pipeliner rolling with your administrator and users
Admin Training – Training for your Pipeliner CRM Administrator
User

User

User means a person who uses or consumes a product or a service, usually a digital device or an online service.

Training – Training for users, to maximize Pipeliner's benefit
Administration
57% of Pipeliner CRM customers reported that they do not need an administrator at all—even for customization. 0% require a full-time administrator.
Salesforce
Pipeliner CRM
Requires full-time administrator(s) $84,000 / YR — Developer(s), Sales Cloud consultant(s)
The Admin staff is drawn from the sales organization

Organization

Organization is a cohesive group of people working together and formally bound by a shared identity (e.g., one team, company, club, etc.) and a common purpose (e.g., business growth, athletic victory, etc.).

members — no additional personnel required
Admins are NOT trained in sales / NOT users of the platform
Admins are professional salespeople / ACTUAL users
Admin Exam at $4250
No external admin needed
Training
41% of Pipeliner CRM customers reported that it took 1 to 5 days. Fourteen percent said it took less than 1 day.
| Salesforce | Pipeliner CRM |
| --- | --- |
| Estimate 1 day of training for every 2 users | Training — straightforward + non-interruptive |
| Complex platform CRM means 2x the license costs. Emphasizes technology stack. IT is in control. | Minimal due to Pipeliner CRM's Targeted, Business-Forward approach. Emphasizes business results. IT supports Sales decisions. |
"The support folks have been absolutely wonderful to work with."
– Eric McDowell, S. Sterling Company
Contact us today for assistance in getting Pipeliner CRM off to a great start in your company!
Want to read more about the importance of onboardingOnboarding Onboarding is the process or act of introducing a new customer to your product or service; or integrating a newly hired employee into your workforce or team.? Visit our Sales Reference Library and download our ebook CRM Onboarding.
Contact Sales
Click here to contact sales support with a specific question or issue.
IMAGINE A NEW KIND OF CRM
What difference would it make to your business if you had a CRM system that salespeople actually saw value in using—one that kept your sales pipelineSales Pipeline Sales Pipeline is a type of visualization showing the status of each sales prospect in the customer life cycle or sales process. accurate, predictable, and efficient?
CRM Onboarding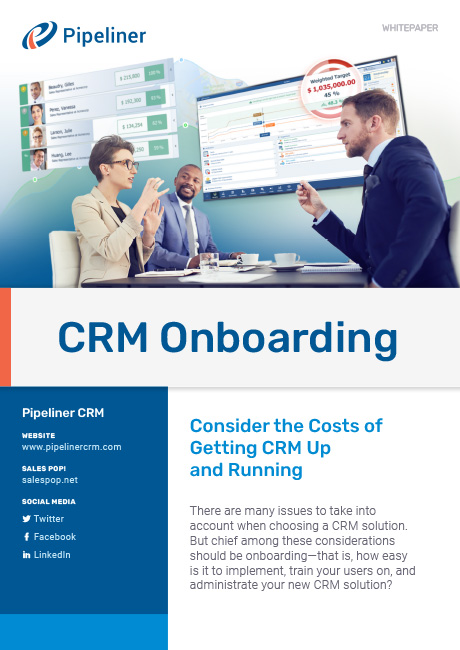 Choosing a CRM? One issue, that might have the highest impact on your ROI are the onboarding costs of the CRM solutionSolution Solution is a combination of ideas, strategies, processes, technologies and services that effectively helps an organization achieve its goals or hurdle its challenges. you choose.