We are Pipeliner CRM, and this is our manifesto.
Introduction: A CRM Company's Dedication:
"We put people first, with enjoyable solutions that empower them through dynamic, instant visualization!"
We are dedicated to:
Being the primary agent of change for salespeople worldwide
Educating and helping them adapt to a buyer-driven world
Utilizing network selling, and promoting its collective approach
Creating 1 million Pipelinerpreneurs globally in the next five years

Pipeliner Manifesto Audio Book
Listen to the Pipeliner Manifesto Podcast
Sales Process Management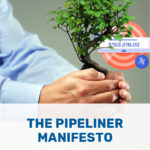 Download this free e-book and learn Pipeliner CRM public declaration of the intentions behind Pipeliner, and our objectives and motives for the product and for our company.
Learn More About Pipeliner CRM
Take a no obligation 14 day trial of Pipeliner CRM. No credit card info required – just experience for yourself how it could impact your sales.