We are Pipeliner CRM, and this is our manifesto.
Introduction: A CRM Company's Dedication:
"We put people first, with enjoyable solutions that empower them through dynamic, instant visualization!"
We are dedicated to:
Being the primary agent of change for salespeople worldwide
Educating and helping them adapt to a buyer

Buyer

A buyer is an individual or organizational entity that purchases a product or subscribes to a service.

-driven world
Utilizing network selling, and promoting its collective approach
Creating 1 million Pipelinerpreneurs globally in the next five years

Pipeliner Manifesto Audio Book
Listen to the Pipeliner Manifesto Podcast
Sales Process

Sales Process

Sales Process is a series of strategic steps or a set of activities aimed at driving sales growth through the alignment of personnel, market insight, methodologies, relevant business units, and technology.

Management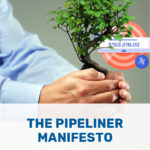 Download this free e-book and learn Pipeliner CRM public declaration of the intentions behind Pipeliner, and our objectives and motives for the productProduct Product refers to anything (an idea, item, service, process or information) that meets a need or a desire and is offered to a market, usually but not always at a price. and for our company.
Learn More About Pipeliner CRM
Take a no obligation 14 day trial of Pipeliner CRM. No credit card info required – just experience for yourself how it could impact your sales.