Voyager Artificial Intelligence In Pipeliner CRM
Here is how the Voyager AI Engine is utilized within Pipeliner CRM's primary features.
Sales AI Account

Account

Account refers to a record of primary and background information about an individual or corporate customer, including contact data, preferred services, and transactions with your company.

Management Features
Real account management means being able to access all pertinent information for an account, both broad and detailed. Through Pipeliner's account management features, Pipeliner Voyager AI allows you to zero right in, and then out again, as needed. It provides a visual handle on all dataData Data is a set of quantitative and qualitative facts that can be used as reference or inputs for computations, analyses, descriptions, predictions, reasoning and planning. so that it truly is instant intelligence, visualized. On a broader view, you need to know instantly how tasks and activities, for which accounts, are prioritized so that you and your team will make your sales target. Account management can also entail focusing in on types of accounts by profile types, and making changes across multiple accounts.
Learn more about Pipeliner CRM Account Management Features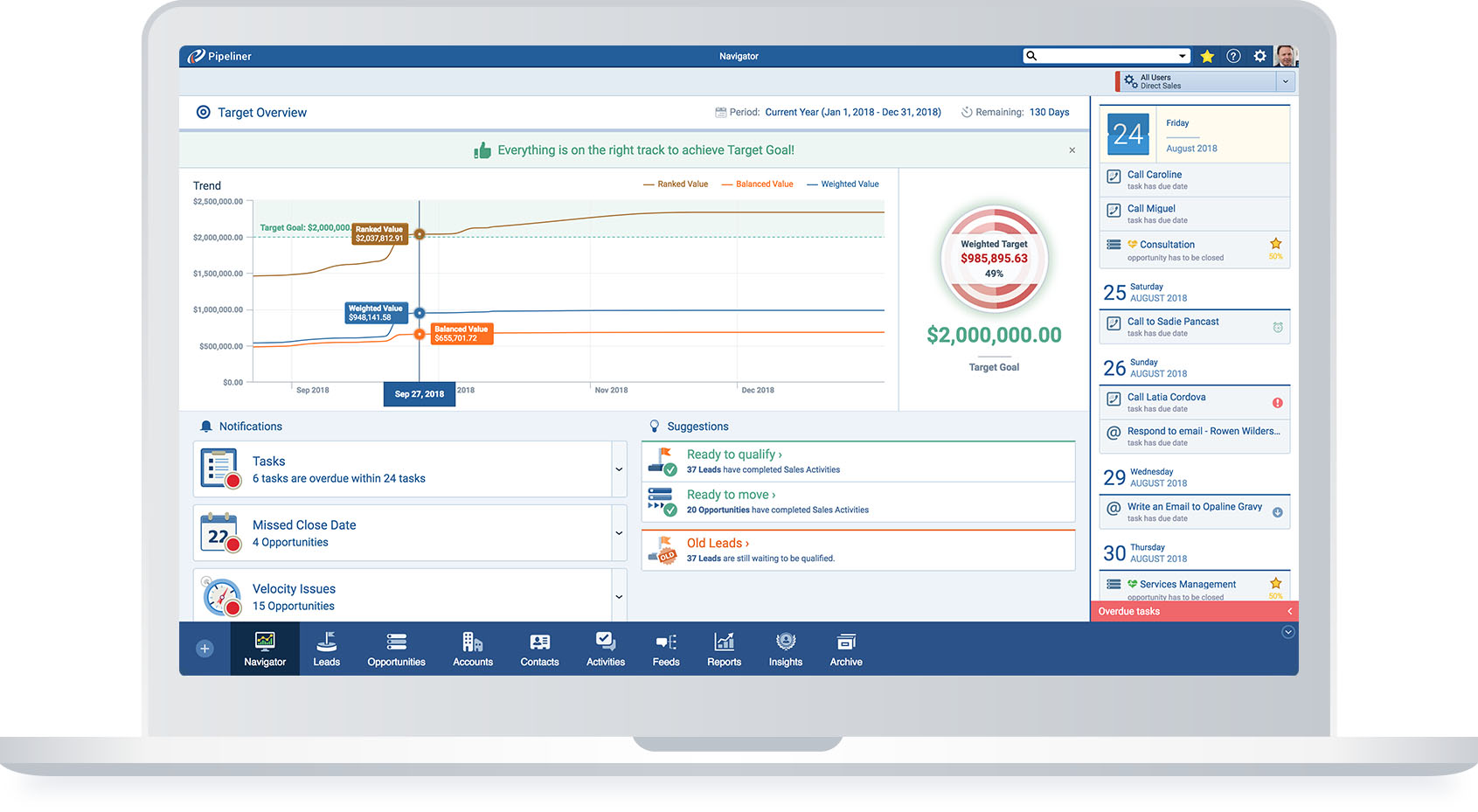 Sales AI Navigator
Our Navigator functionality extends far beyond the standard concept of a CRM dashboard. Pipeliner's Voyager AI engine is employed to bring precise instant intelligence to all users, and includes includes a number of integrated components, all in a single cohesive and intuitive view:
Activity Stream displays on the right-hand side of the Navigator, and consists of opportunities, activities and tasks in date order, beginning with the closest to the present. Salespeople will often have reminders in different places and applications for all of these different items. Navigator brings them to you all in one convenient, visual location.
Target Overview utilizes the Voyager AI engine to combine our Dynamic Target feature with a Target Trend graph. The user

User

User means a person who uses or consumes a product or a service, usually a digital device or an online service.

can see progress toward a sales goal–through three different metrics

Metrics

Metrics  are quantities that are measured and used to:

, over a specified time period. The user always knows where they stand with regard to the target, and what they need to do to meet or exceed it.
Notifications, in which Pipeliner's Voyager AI engine brings data into 4 different boxes: "Tasks", "Missed Close Date", "Velocity Issues." and "Largest Open Opportunity." Click on any of these to instantly drill down to specifics.
Suggestions, through which the Voyager AI engine advises the user of other areas of action that should possibly be addressed, including New Leads, Stuck Opportunities, Inactive Leads, Inactive Accounts, Cold Accounts and more.
Business Overview, through which the Voyager AI engine graphically displays Open Opportunities, Open Sum, Won Sum, and Lost Sum—for the user-defined date range to which Navigator is currently set.
 Learn more about Pipeliner CRM's Navigator Feature
Sales AI Filters and Profiles
A CRM is only as valuable as its data—viewed visually, rapidly and in context. Through its powerful Filters and Profiles functionality, Pipeliner's Voyager AI engine offers you many ways to visualize and instantly filter data so that you can have the precise view you need. Filter options allow you to filter and view tasks based on any field.
Beyond that, Pipeliner allows you to save views that you know you're going to regularly use—with our Profiles Feature.
Powerful Graphic Sales Timelines
Pipeliner's mission is to take visualization out of the imagination and into the real world, This mission is directly reflected in Pipeliner's powerful graphic sales timelines, powered by Pipeliner's Voyager AI engine.
The Pipeline

Pipeline

Sales pipelineis a visual representation of the stage prospects are in the sales process.

View
In the Pipeline View you have a graphic representation of your sales processSales Process Sales Process is a series of strategic steps or a set of activities aimed at driving sales growth through the alignment of personnel, market insight, methodologies, relevant business units, and technology., with its distinct sales stages. Within each sales stage you can instantly see exactly where each opportunity lies, along with how long it's been there, if it's overdue, its chances of coming in, and numerous other factors.
If you mouse over any opportunity you can gain a Quick View—showing value, ranking, close date, recent and upcoming activity, and opportunity Fitness. In a similar way, you can mouse over any sales stage for a summary of that stage, including total value, number of opportunities, the average time in step, and more.
Target
1To the right of the screen, always in view, is the Dynamic Target. It is a constant reflection of your up-to-the-minute progress in any given sales period and can be utilized in 5 different target views. Dynamic Target can also be customized to take different views of the pipeline for analysis and forecastingForecasting Forecasting is a prediction or calculation of a trend or event likely to occur in the future based on qualitative, quantitative and historical data as well as emergent but relevant factors..
Compact View
With the Compact View feature you can, at a glance, view the last time a prospect was touched, the sales opportunities that involve them, and activity from their running feed (latest internal messages, social CRM updates, or emails).
The Compact View can also be applied to leads and opportunities.
Bubble Chart View: Your 3D Sales Timeline
Sales professionals are always looking toward the future, at when which opportunities are scheduled to close. But in doing so, there must be exact relevance to the view:
In which sales process stage does the deal reside?
What is the estimated close date?
How big is the deal, and what are its particulars?
With Pipeliner's 3D Timeline all of these aspects are instantly seen. Sales pipelineSales Pipeline Sales Pipeline is a type of visualization showing the status of each sales prospect in the customer life cycle or sales process. stages run up the left-hand side. The timeline runs from left to right, and the size of the deal is expressed in the size of the "bubble." Simply mouseover or click on a bubble for a closer view of that deal.
Pipeliner CRM now brings you complete timeframe understanding – instantly, visually.
Sales AI Fitness
Another unique Pipeliner feature powered by Pipeliner's Voyager AI engine is Fitness, through which we bring together several different parameters. Here is the color coding utilizing by the Fitness feature, within Pipeliner CRM:
Green: Fit
There are activities scheduled related to this opportunity, AND
There are no overdue tasks related to this opportunity, AND
The opportunity is on target to close on time.
Yellow: Attention
There are no scheduled activities related to this opportunity
Red: Action
The closing date is overdue, OR
There is an overdue task related to this opportunity.
Fitness can be observed in numerous screens throughout Pipeliner CRM.