Outlook Add-in & Gmail Add-in
Keep working in Outlook or Gmail and still access and/or create Pipeliner contacts, accounts, leads, opportunities, tasks and appointments.
CHALLENGE

"Our salespeople work mostly in their email."
SOLUTION

Solution

Solution is a combination of ideas, strategies, processes, technologies and services that effectively helps an organization achieve its goals or hurdle its challenges.

Pipeliner CRM makes it possible to work in email… without switching back and forth between email and CRM.

You get to maximize the tools you already use — no switching between systems, no disruption.

Learn More about Outlook add-in
Learn More about Gmail add-in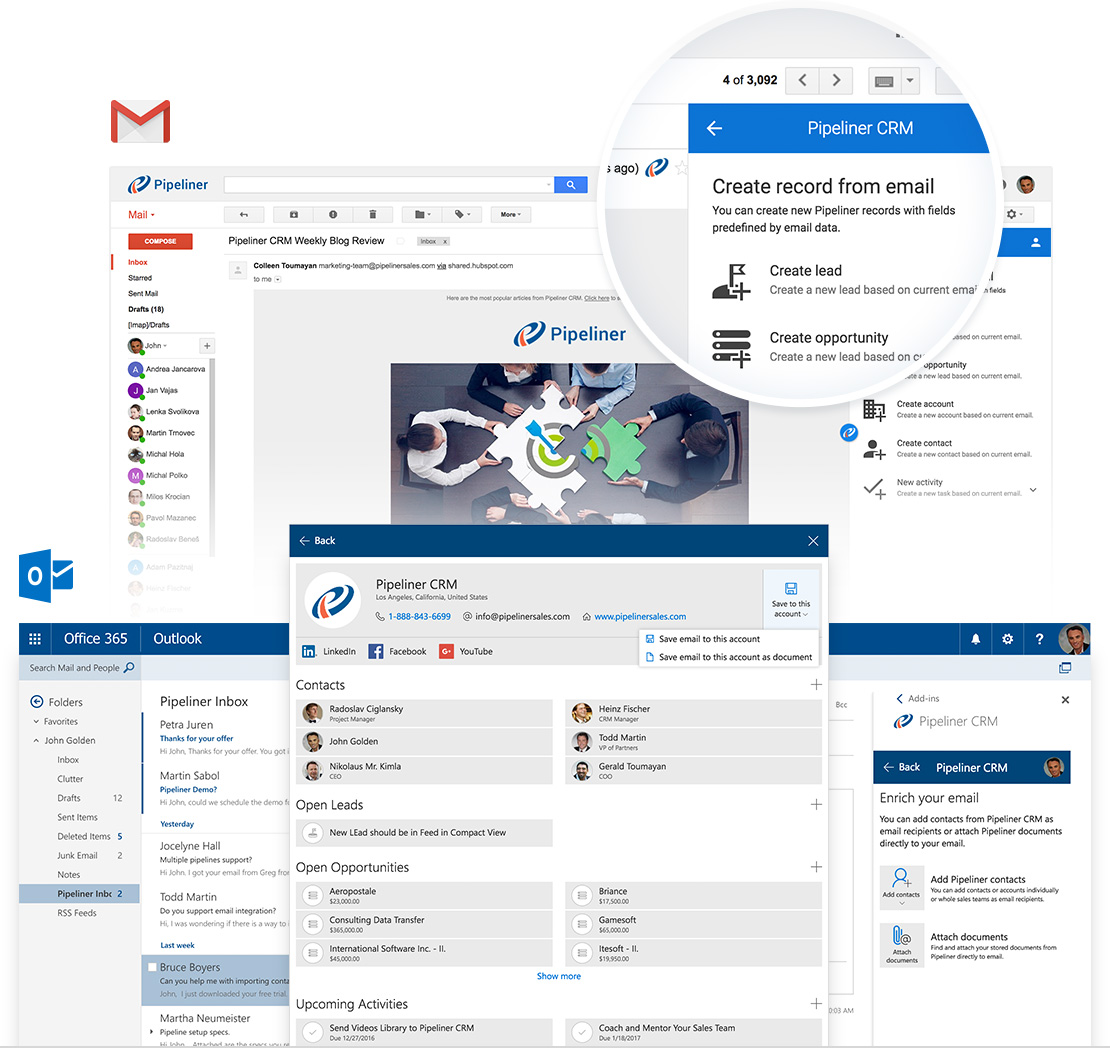 "It provides your salespeople with complete picture of their book of business."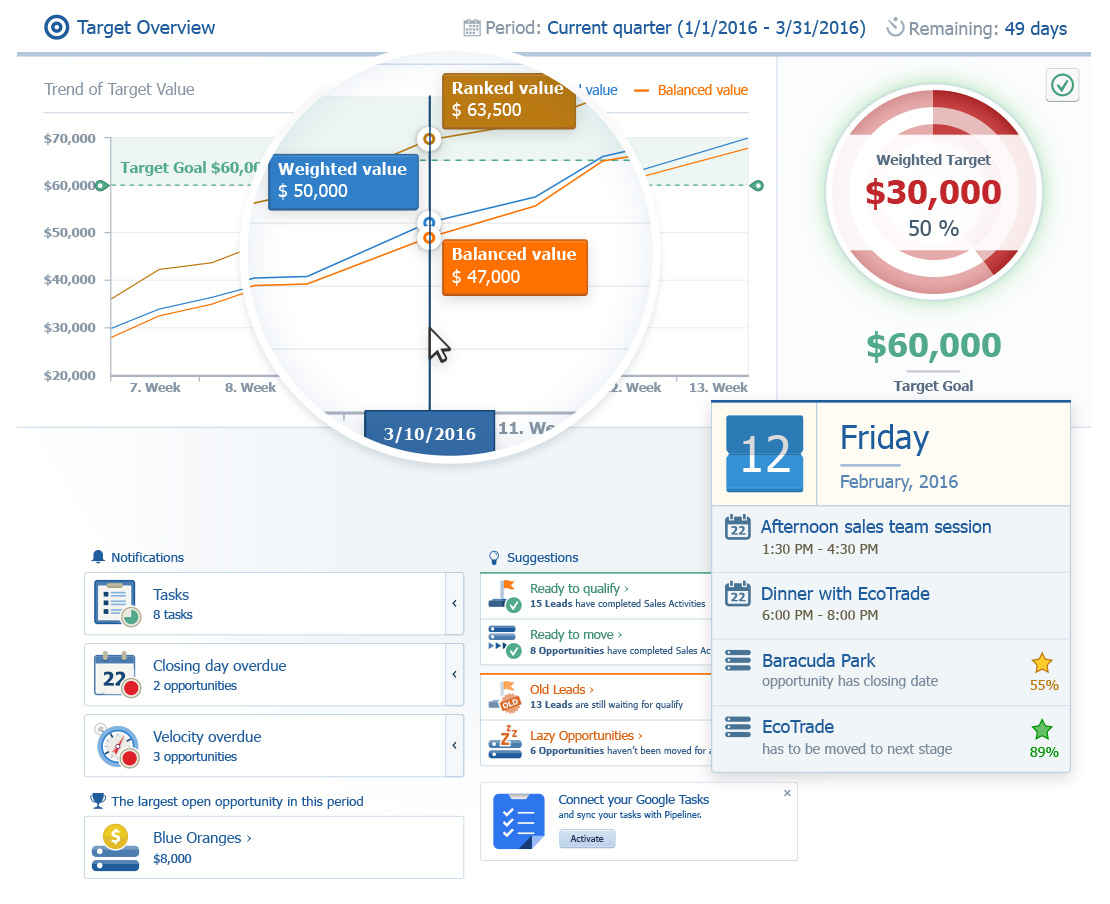 Sales Adoption
Challenge

"We need to track and manage sales but CRM is too difficult, salespeople won't use it."
Solution

Pipeliner CRM: Instant, Intelligence, Visualized.

The brain processes images 60,000 times faster than it does text. The majority of salespeople are visual by nature, so they learn the Pipeliner CRM system fast. This makes for unparalleled adoption rates.

Plus… the dataData Data is a set of quantitative and qualitative facts that can be used as reference or inputs for computations, analyses, descriptions, predictions, reasoning and planning. is accurate because they are working in the system every day, and they actually enjoy using Pipeliner CRM. You get Increased visibility, efficiency, productivity… and sales.
Onboarding

Onboarding

Onboarding is the process or act of introducing a new customer to your product or service; or integrating a newly hired employee into your workforce or team.

& Implementation
Challenge

"But CRM takes too long to implement/adopt and requires a lot of support."
Solution

Pipeliner's intuitive interface and self-guided learning system.

Pipeliner is the only CRM that has context-sensitive help built right into the productProduct Product refers to anything (an idea, item, service, process or information) that meets a need or a desire and is offered to a market, usually but not always at a price.. Plus a fast-to-learn, highly intuitive interface with uniform navigation across multiple screens (learn once, use always). This means Pipeliner receives 60-70% fewer support tickets than other CRMs.

This all means minimal business disruption, fast adoption, no support issues, and rapid ROI.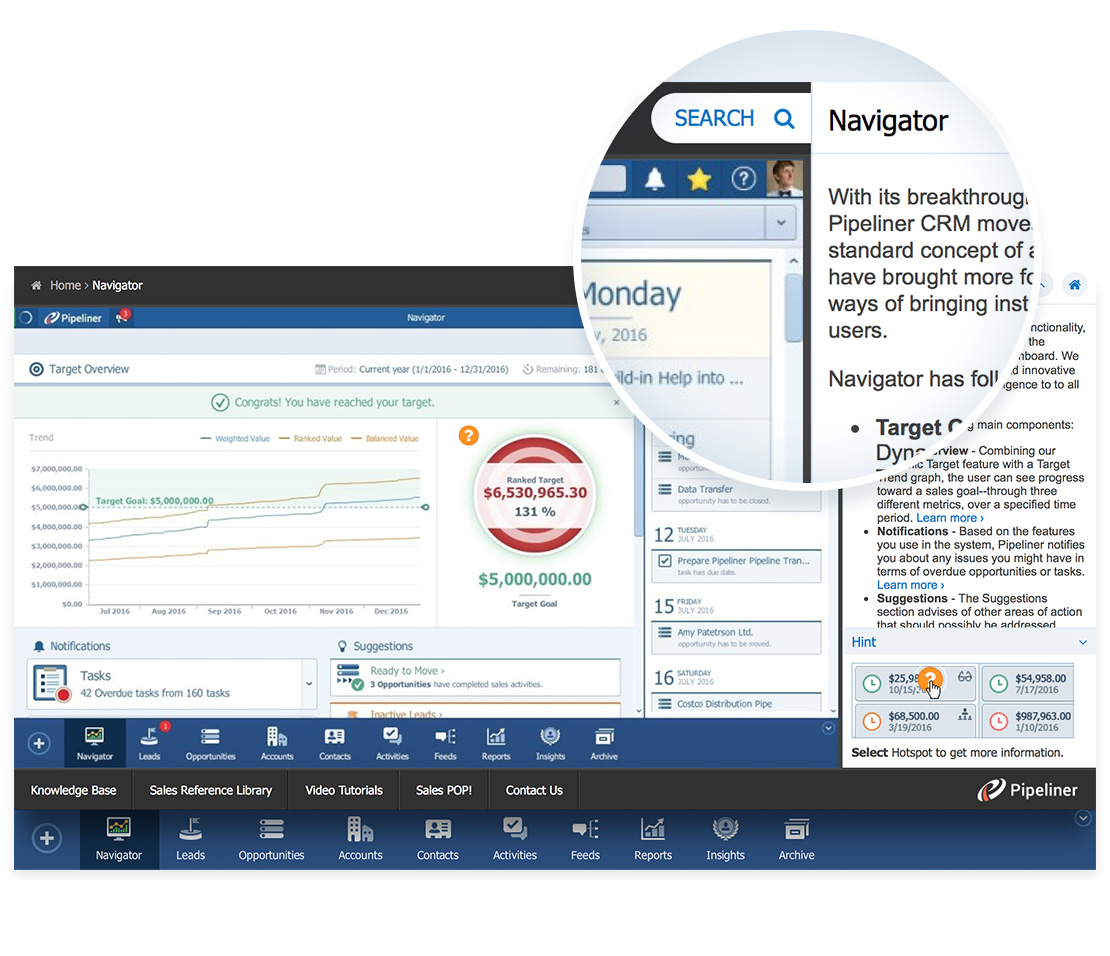 "Intuitive, keeps me on track of all my accounts like never before."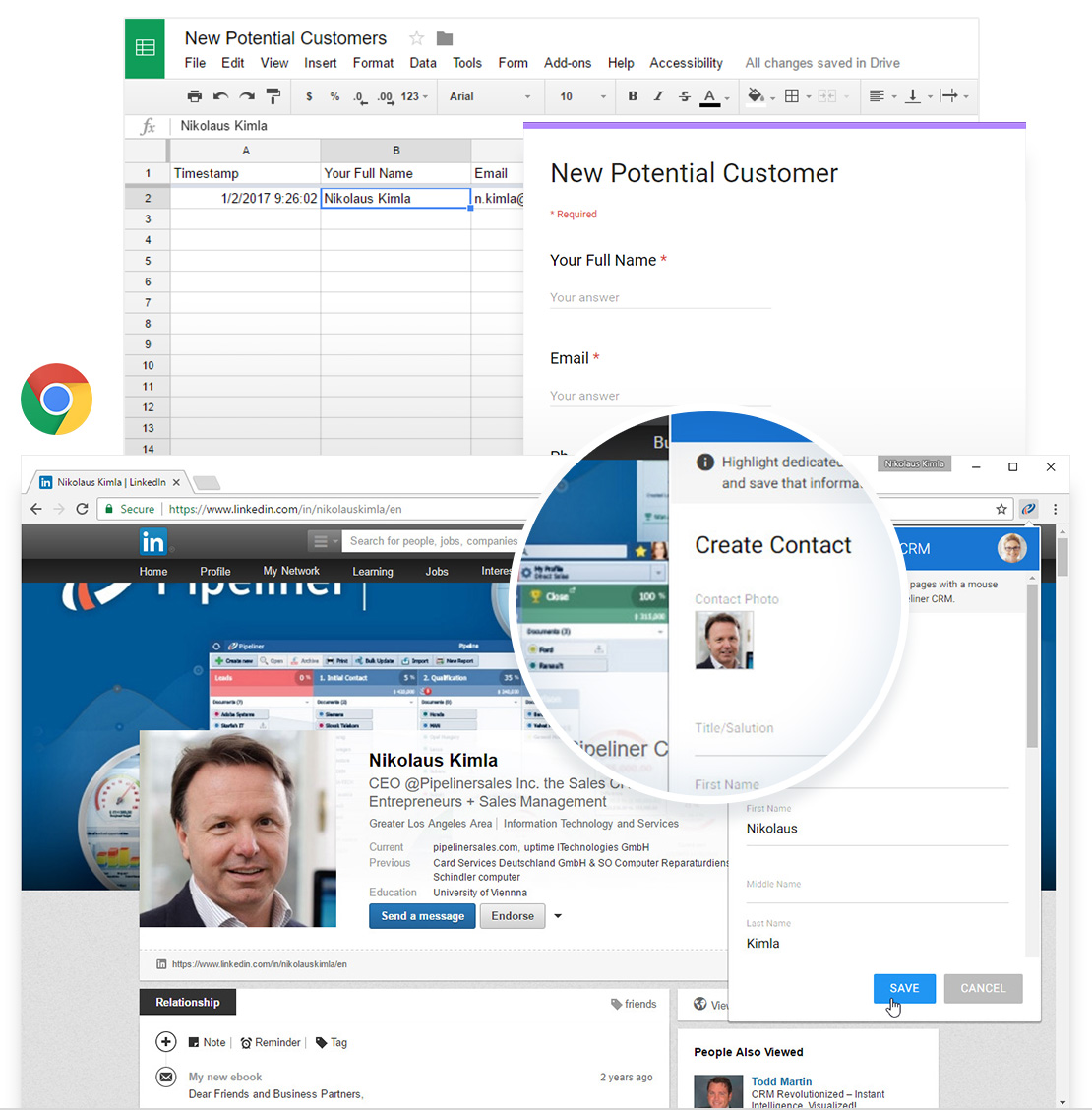 Entering Data
Capture leads from websites directly into Pipeliner CRM with Pipeliner CRM Web Clipper. Painlessly add leads, opportunities, accounts or contacts to Pipeliner, directly from your company's Google forms.
Challenge

"What about leads and getting data into the system?"


"Pipeliner is a fresh new way to look at the traditional sales pipelineSales Pipeline Sales Pipeline is a type of visualization showing the status of each sales prospect in the customer life cycle or sales process.."

Administration
Challenge

"CRM admins are really expensive… and what if they leave?"
Solution

Pipeliner CRM does not require a full-time admin.

Pipeliner CRM admins spend an average of only 3-4 hrs per month on administration. It only takes 5 hours for administrative training, so adding or replacing part-time admins is easy.

This saves companies over $100k in dedicated admin costs and removes the stress of being reliant on one, all-powerful, full-time admin.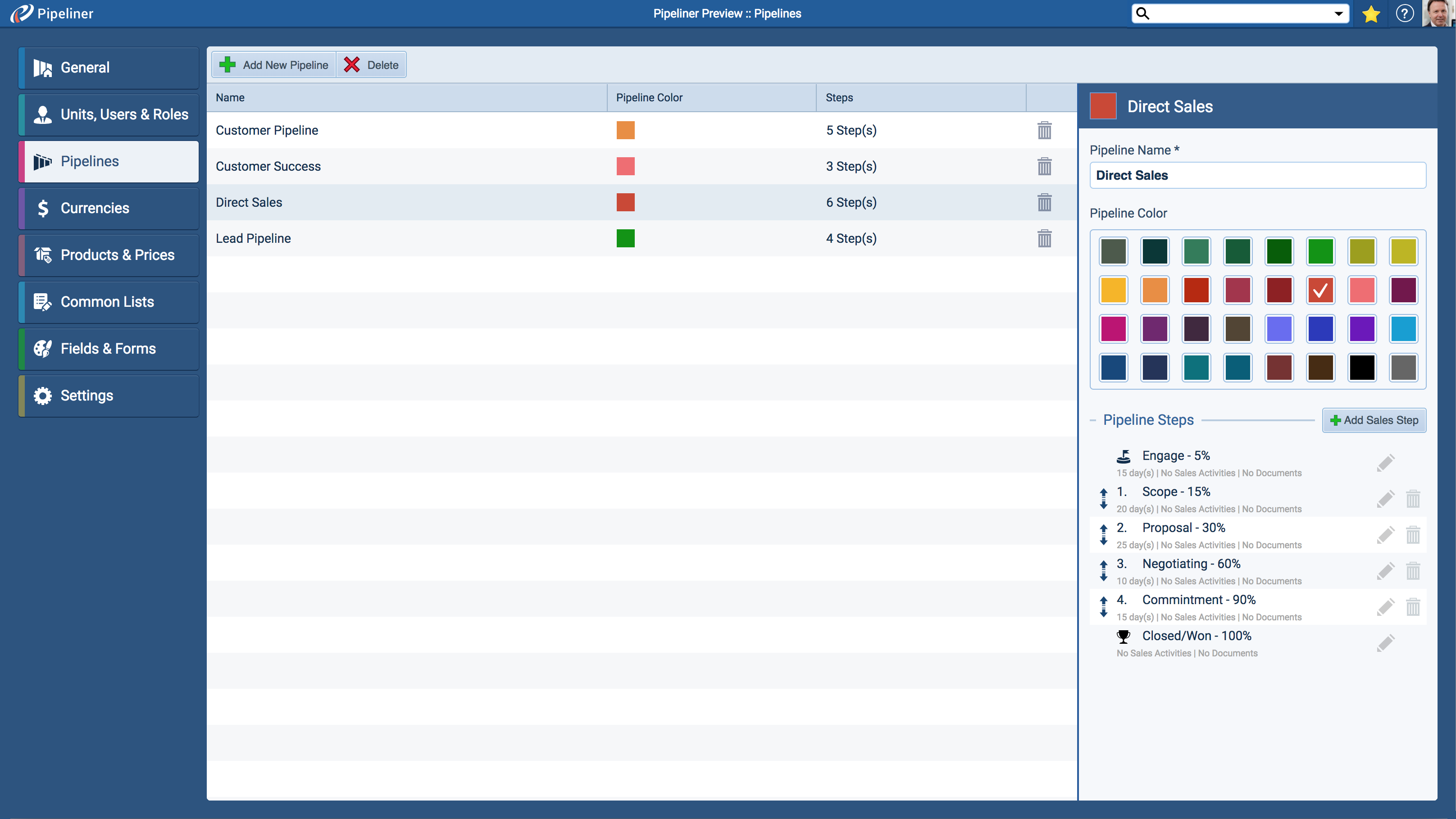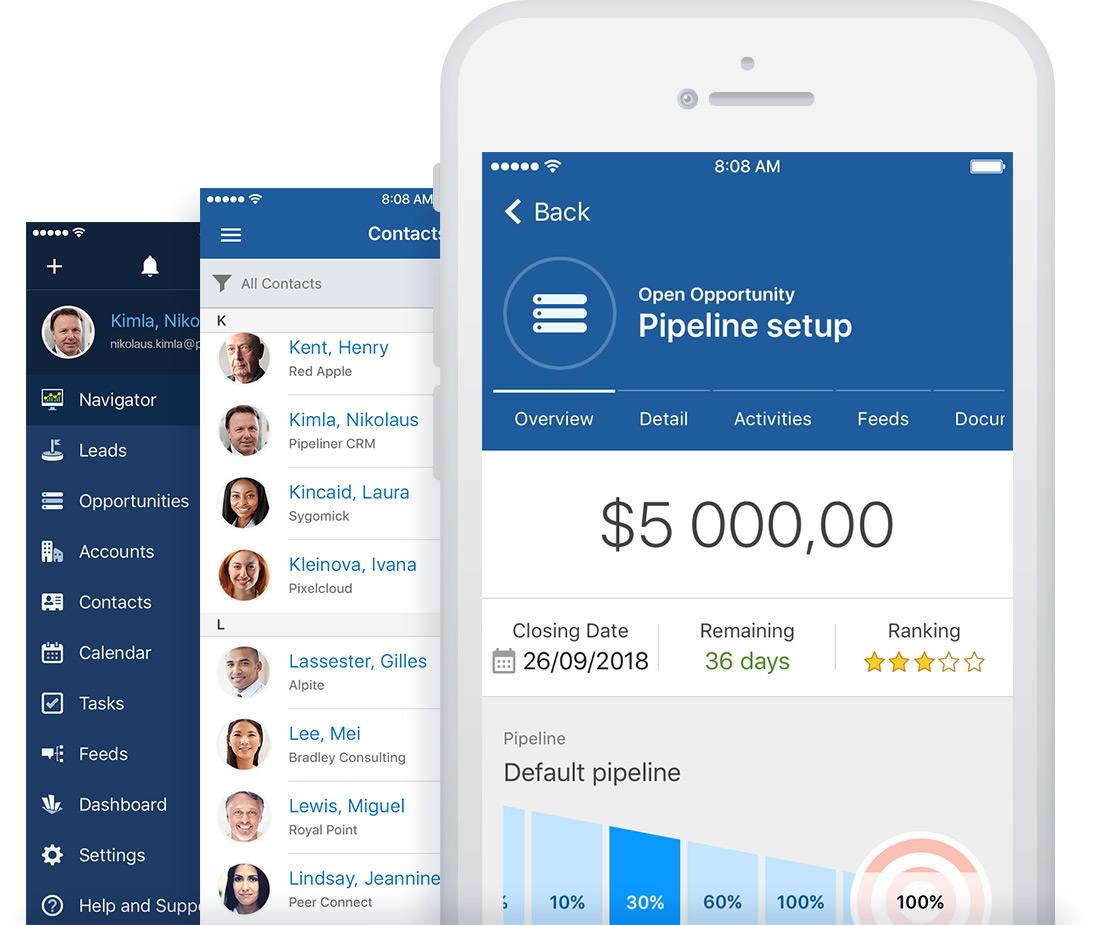 Mobile App
Challenge

"Our salespeople are always on the move & sometimes only have access to their smartphones."
Solution

Pipeliner CRM Mobile App available on IOS & Android.

Pipeliner Mobile CRM is the same Instant Intelligence, Visualized—nothing to learn, easy to use. Users can call Pipeliner CRM contacts immediately from their smartphones. Voice to text saves them from data entry. Works seamlessly with the Pipeliner CRM desktop app.

You get highly productive, efficient salespeople—always operating with up-to-the-minute information.
Experience Pipeliner the product & Pipeliner the people!