Pipeliner's unique Task Board makes it possible to keep track of everything that needs to be done—visually and intuitively.

Optimizing Sales with Teamwork
Visually oriented, drag-and-drop Pipeliner CRM Task Board. Everyone sees Task status.
Pipeliner CRM Drag-and-Drop Task Board
Everyone knows what it's like to try and get along without such functionality—tasks are kept in calendars, in notes, in reminders and a wide variety of other methods. The problem with such methods is that things can get forgotten or lost. Hope it was nothing important.
But following in the footsteps of Pipeliner's unique PipelinePipeline Sales pipelineis a visual representation of the stage prospects are in the sales process. View feature, which clearly shows the stages of a company's sales processSales Process Sales Process is a series of strategic steps or a set of activities aimed at driving sales growth through the alignment of personnel, market insight, methodologies, relevant business units, and technology. and allows opportunities to be dragged-and-dropped from one to the next, now comes the Task Board:
The Task Board is drag and drop, left to right, just like your pipeline – a visual representation of your entire team's key activities.

Every Task can have a priority, a status, a due date, an owner, and include "watchers"who need to be aware of the progress of that task.

At a glance, track what's fallen behind, what's coming up next, and when a task is completed.

From the main Task Board, accessible from the main Pipeline View, you can see all outstanding tasks, their priorities, due dates and other key information. All are linked to specific Opportunities—simply click on them to see the full opportunity.

You can also access, through any AccountAccount Account refers to a record of primary and background information about an individual or corporate customer, including contact data, preferred services, and transactions with your company. or Opportunity, tasks relating to that specific Account or Opportunity only. Any task entered into an Account or Opportunity will automatically display on the main Task Board.
Pipeliner CRM Benefits
Pipeliner CRM brings a whole new level of consistency and predictability to your business. It is visual, always available and won´t break your budget.
Visual, intuitive and at affordable price

Always available and focused on productivity and efficiency
Theory Made Real: Pipeliner CRM Puts Principles into Practice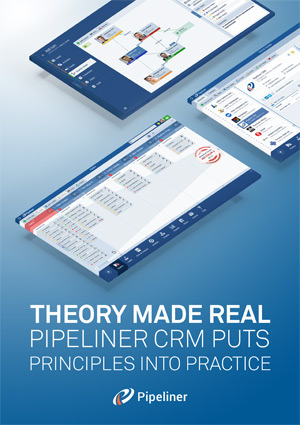 Based on proven economic principles, Pipeliner CRM is a tool for everyone.