With Pipeliner CRM 12.0, we are bringing the ultimate in sequence and location for all sales events associated with opportunities and accounts.
The name for this version comes from an ancient science of chronology—the science of arranging events in their order of occurrence in time. The founder of scientific chronology, Eratosthenes of Cyrene (c. 276 BC – 195/194 BC), set out to revise the dates of the chief literary and political events of his time. In addition to establishing this important field, Eratosthenes was also the first person to calculate the circumference of the Earth, and may have accurately calculated the distance from the Earth to the Sun and invented the leap day.
In the same way, Pipeliner CRM allows companies to rapidly, easily and visually establish the order of events (both past and future) for accounts and opportunities. Pipeliner also facilitates the mapping of opportunities—both in terms of relationships and geographically.
Advanced Reporting and More
In addition to all the powerful Pipeliner reporting features that users have come to count on, we have now added a whole new dimension: Advanced Reporting. This feature allows you to you combine any record type (opportunities, leads, accounts, contacts, products, feeds, notes, activities) or report type (standard or pivot) into one single report, using our new Report Builder.
Report Builder is a visual editor for reports. The Report Builder screen lets you work with opportunities, accounts, leads and contacts, and define their relations. You can also work with report fields, and define custom filters for each report type.
Enhanced Opportunity Management
To Pipeliner's totally visual opportunity management, we have now added a label feature—you can now label opportunities so that priorities are instantly viewed: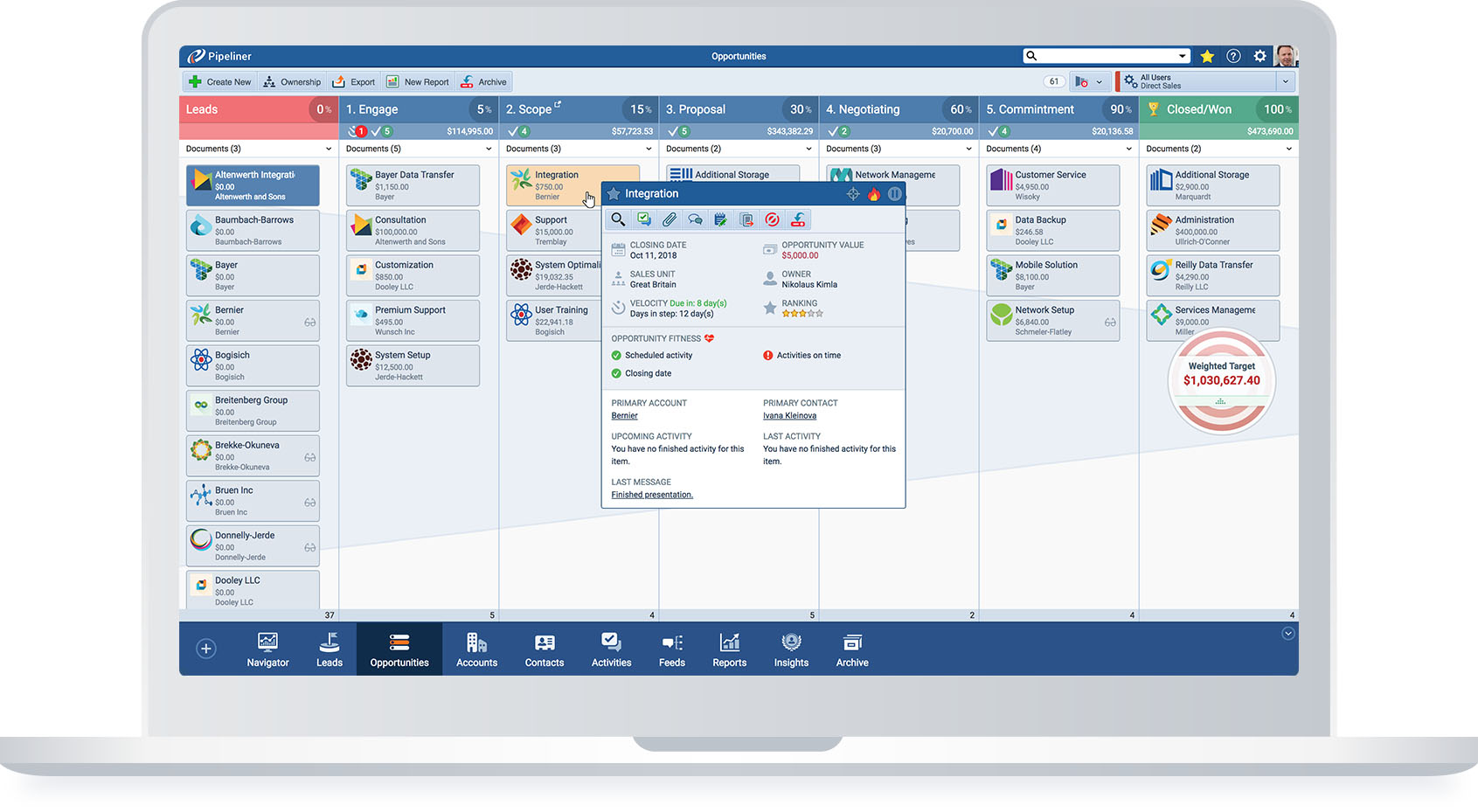 Enhanced Sales Task Management
With the release of Pipeliner CRM Chronology, you can invite other users as well as contacts to appointments, and can track an email as an activity. You can also set a default due date for tasks, if it is helpful.
Pipeliner CRM Mobile Enhancements
We know that CRM is only as valuable as it serves salespeople everywhere—and salespeople are often far away from their desks and offices. We have made Pipeliner Mobile CRM even more empowering for salespeople on the go. Pipeliner's most important features are all available as part of the mobile version. Additionally:
Pipeliner's powerful Pipeline

Pipeline

Sales pipelineis a visual representation of the stage prospects are in the sales process.

View feature is now part of Mobile CRM, along with its new labeling feature.
Our KPI Dashboard feature has now been fully integrated with Mobile CRM.
Need Help Getting Pipeliner Up and Running?
Pipeliner CRM is designed so that implementation and training (for administrators and users) happens faster than for most CRM solutions on the market today.