With Pipeliner CRM version 11.0, we are demonstrating absolute continuity in optimizing the application, and in streamlining and supercharging sales activities throughout the world.
We took the name, as we have been doing for the last several years, from an ancient work—in this case the Law of Continuity. The Law of Continuity is a principle introduced by German mathematician and philosopher Gottfried Leibniz in 1701, and is the principle that "whatever succeeds for the finite, also succeeds for the infinite.
Translating this over to business, what is a salesperson doing today, every day, every hour, every minute? Activities. Everything is an activity—a task, appointment, meeting, call, sending of collateral, and more. It's the tasks and activities that make it possible for opportunities to rapidly move from stage to stage of the sales processSales Process Sales Process is a series of strategic steps or a set of activities aimed at driving sales growth through the alignment of personnel, market insight, methodologies, relevant business units, and technology.—creating continuity throughout the sales pipelineSales Pipeline Sales Pipeline is a type of visualization showing the status of each sales prospect in the customer life cycle or sales process.. For that reason, enhancement of Pipeliner CRM's powerful Sales Activities functionality is at the heart of this release.
Sales Activity Management
Pipeliner CRM Continuity is focused primarily on sales activity management features—some of which can be found in no other CRM application.
Activity 1:N allows you to attach the same activity to one or more accounts, contacts, leads or opportunities—anywhere it applies.
You can now create and set recurring tasks
You can now set a default meeting duration—if, for example, many of your meetings have the same length
You can set a default reminder time before a task, such as an hour before a meeting
With the Appointment Planner, instantly check the time zone of prospect or customer

Customer

Customer is an individual or an organization that purchases a product or signs up for a service offered by a business.

when setting an appointment
You can now run a Quick Filter without scheduled activities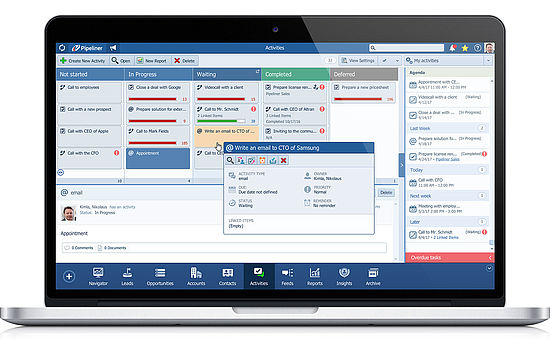 Other Enhancements
Product

Product

Product refers to anything (an idea, item, service, process or information) that meets a need or a desire and is offered to a market, usually but not always at a price.

Catalogue
Pipeliner CRM allows companies to bring their entire product or service catalogue right into Pipeliner CRM. Pipeliner CRM Continuity contains the following enhancements to the Product Catalogue functionality:
Ability to report on the "difference" value—the difference between the list price and the actual sale price.
Ability to define product or service value in multiple currencies.
Ability to assign products to a dedicated pipeline

Pipeline

Sales pipelineis a visual representation of the stage prospects are in the sales process.

. Example: Perhaps you have a product pipeline and a services pipeline, each sold by a different sales team. These could be assigned to separate pipelines as needed.
Reporting Enhancements
Pipeliner CRM's reporting functionality has several new incredible enhancements:
Parent Sales Unit—Ability to add parent sales unit to reports as column, or filter data

Data

Data is a set of quantitative and qualitative facts that can be used as reference or inputs for computations, analyses, descriptions, predictions, reasoning and planning.

according to parent sales unit.
You can now bulk export leads and opportunities directly into an Excel spreadsheet. Previously, you had to create an opportunity report in order to export opportunities to an Excel spreadsheet, but now they can be exported directly.
Additional New Features and Enhancements
Ability to copy an opportunity to a different pipeline.
Compact View for Leads and Opportunities is now enriched with contacts, accounts, and notes (previously it was only tasks and activities).
Mobile CRM Enhancements
A version of the Pipeliner's powerful Navigator feature has now been added to Pipeliner Mobile CRM.
Need Help Getting Pipeliner Up and Running?
Pipeliner CRM is designed so that implementation and training (for administrators and users) happens faster than for most CRM solutions on the market today.