Your Full Product

Product

Product refers to anything (an idea, item, service, process or information) that meets a need or a desire and is offered to a market, usually but not always at a price.

Catalog—Right in Pipeliner CRM
Pipeliner CRM enables you to place your catalog right within CRM—no need to jump back and forth between CRM and a catalog. Your products and services, pricing, and discounts can now be a part of your CRM—a massive time saver.
No salesperson has time to enter a particular product or service into CRM every time it is sold. A full list of products and services must be available so that the rep need only associate particular items with that prospect's or customerCustomer Customer is an individual or an organization that purchases a product or signs up for a service offered by a business.'s accountAccount Account refers to a record of primary and background information about an individual or corporate customer, including contact data, preferred services, and transactions with your company.. Each product or service must also have associated prices, discounts, terms, applicable taxes and more—so that everything is accessible with a few clicks.
Catalog Right in CRM
Pipeliner CRM allows your company's product catalog, including all applicable information for every item, to be available right in CRM. A salesperson can rapidly quote a price to a customer sitting right in front of them or on the phone. A salesperson can also plan—right from the catalog and while viewing a customer's account and history—what products or services should be pitched to that customer.
Create a custom list of products and services that match your business.
Assign products with your custom list of categories.
Assign products with your SKU (Stock Keeping Unit) numbers.
Create price lists and add products on the fly.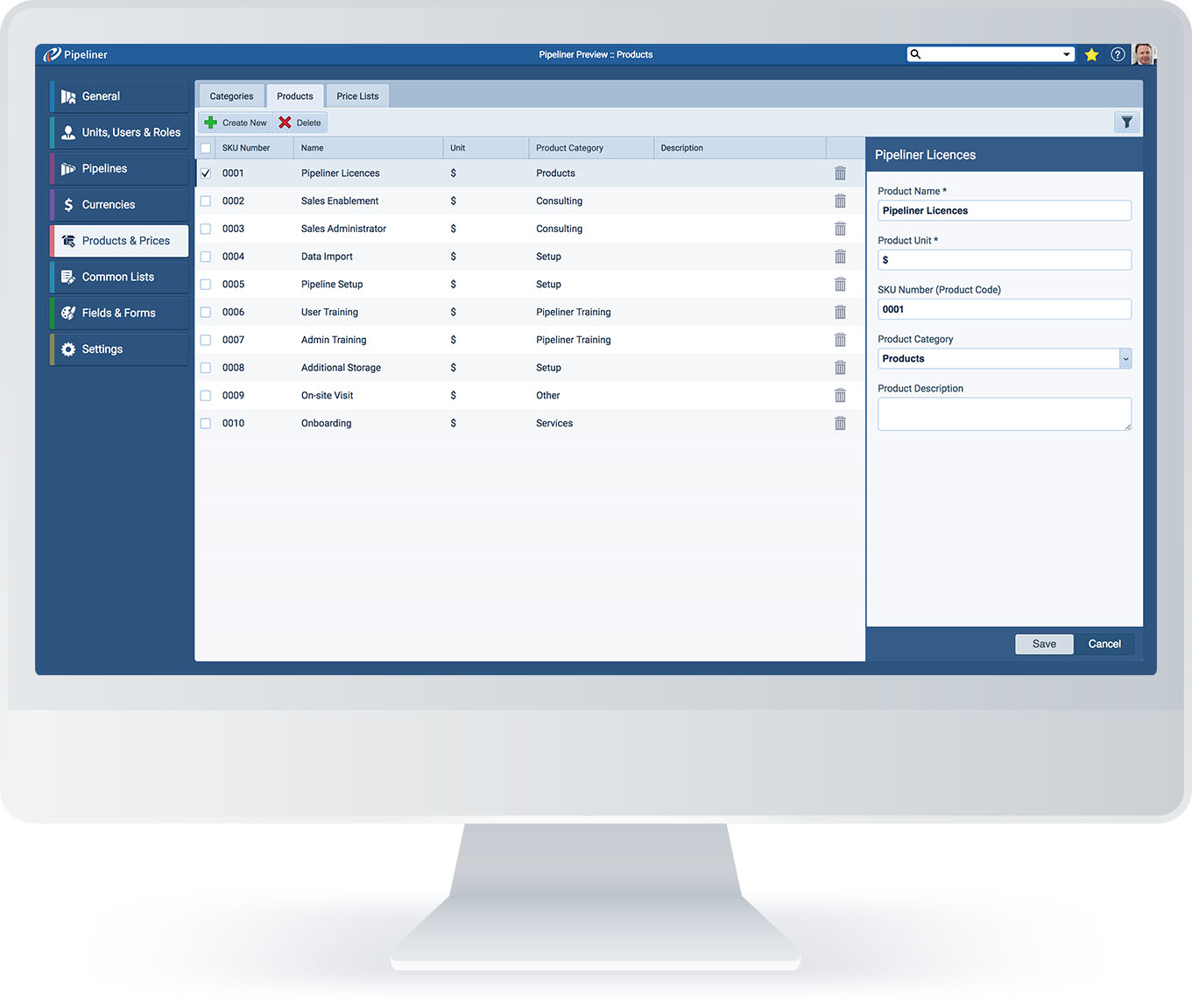 Price List Additions or Changes
A company will always have new products and services coming online. Your product catalog can be updated in minutes so that all agents can access new items immediately.
Reporting
The Pipeliner CRM catalog Feature has a variety of reporting features:
Sales opportunity report based on products or services.
Pivot table report based on products and services.
Pivot table report based on product categories.
Reports can contain the difference between list prices and actual sale prices.
Feature Available In These Products & Plans
Starter
Business
Enterprise

Enterprise

Enterprise (in the context of sales) is a relatively large organization typically composed of multiple levels, locations, and departments which need multi-layer software systems that support collaboration across a large corporate environment.
Unlimited
For more info about Pipeliner CRM pricing plans check our Pricing Page.