Social Selling Made Easy!
Pipeliner CRM's embedded social features keep your finger on the pulse of your customers and prospects!
Today's buyer uses social media, social networking and a host of other online sources as part of their buying process, so it's important for your salespeople to be present everywhere your prospects are.
With Pipeliner's social feeds you can stay up-to-date with what is happening with your customers and prospects. This allows you to react fast and engage with them in a knowledgeable and informed way.
This is made easy with our new Automatic Profiling!
Contact Auto-Profiling – With just an email address, Pipeliner goes out and searches for your Contact — adding picture, address, phone, social accounts, and more to the Contact Record. Less data entry for you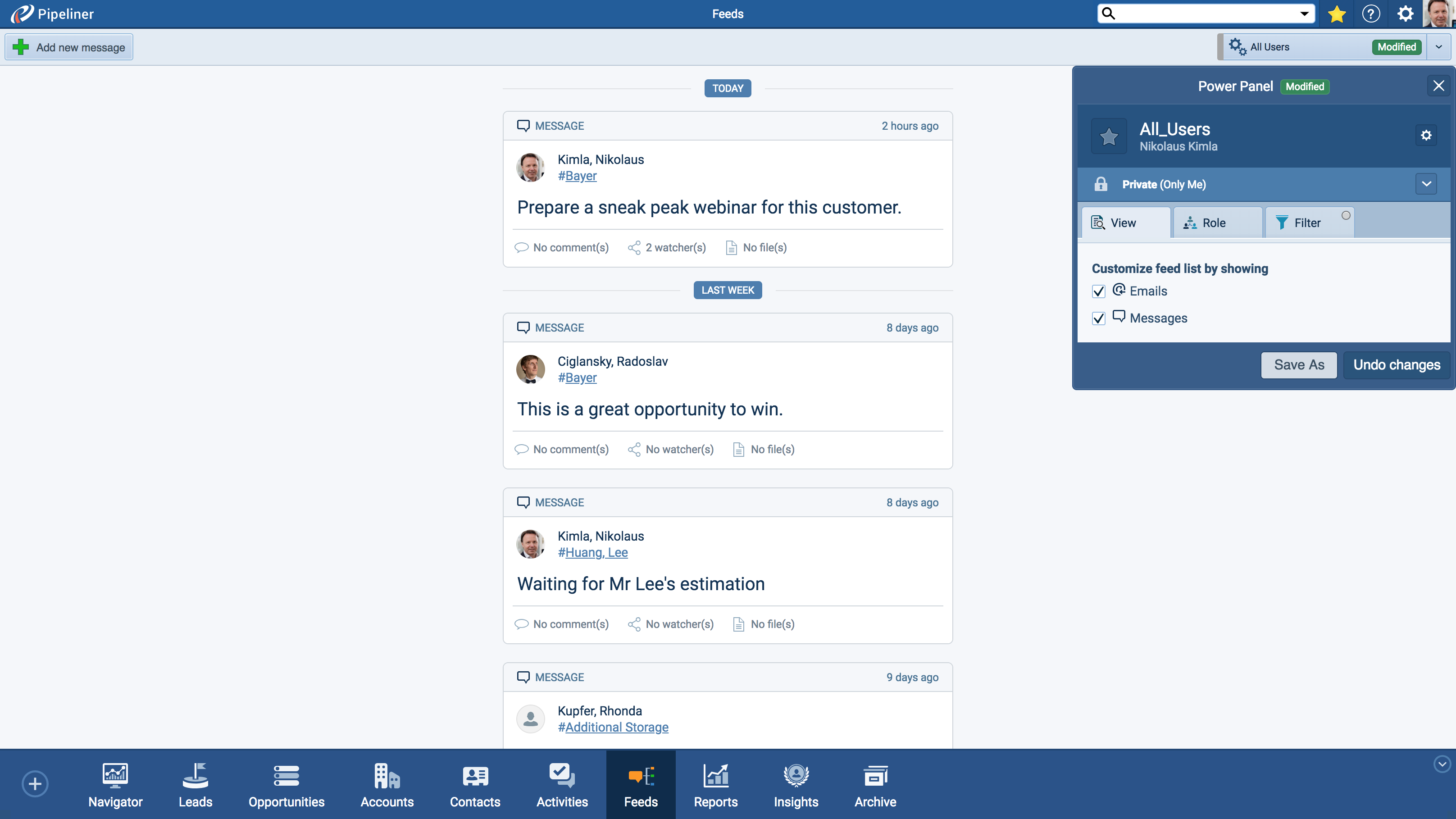 Visual Account Planning
We also make it easy for you to visually map out who's who in the organization you are selling to and what impact or influence they have over each sale.
Visual Organization Chart:

Automatically create the chart using your contacts in Pipeliner
Visual Buyer Map:

Unique to Pipeliner CRM, drag and drop to create a visual map of who is impacting each opportunity and how!
Map Gatekeepers, Budget Holders, Influencers, Naysayers, and so many more!
Feeds
See Feeds from popular social networks (such as Twitter, Facebook and Google+) right on the Contact or Account record. When you interact with your prospect, Pipeliner keeps that history front and center in the Record, so you're always up to date and your team can see it, too.
All feeds auto-refresh in real time.
Take social actions directly from within the Contact Record, Account Record, Opportunities, and Leads.
Shared connections give you a richer view of your network and how it fits together.
Feature Available In These Products & Plans
Starter
Business
Enterprise
Unlimited
For more info about Pipeliner CRM personal and business plans check our Pricing Page.
Some Other Highlights:
Filter options allow you to filter and view tasks, contacts, accounts, leads and opportunities based on any field.
Entering email, contact or URL will immediately start an online search for publicly available information, such as address, title, social media and more.