Complete Visual Contact Management
Our all-in-one Contact View allows you to see and manage your contacts like never before!
Dynamic Contact Management
As with other functions commonly found in CRM applications, contact management within Pipeliner goes well beyond ordinary contact management—it is totally visual and dynamic.
Pipeliner has made it as easy as possible to locate the information you're looking for. From the accountAccount Account refers to a record of primary and background information about an individual or corporate customer, including contact data, preferred services, and transactions with your company. view, you can readily see all associated contacts and opportunities. From opportunities, you can view related accounts and contacts.
Likewise when accessing a contact, you can immediately see the opportunities, activities, tasks, notes, social messages and email, and other information related to that contact—in one view. You can then click on any needed item within the contact for more dataData Data is a set of quantitative and qualitative facts that can be used as reference or inputs for computations, analyses, descriptions, predictions, reasoning and planning..
Pipeliner allows you to connect any web page from an external web site such as Google Maps to a contact.
From the contact, you can immediately send messages, and add opportunities, activities and documents to the contact view without ever leaving the screen. You can also associate activities and reminders to that contact, and set up email notifications to update you (or others associated with this contact) when events occur. And as with many functions in Pipeliner, the fields within the contact view are customizable.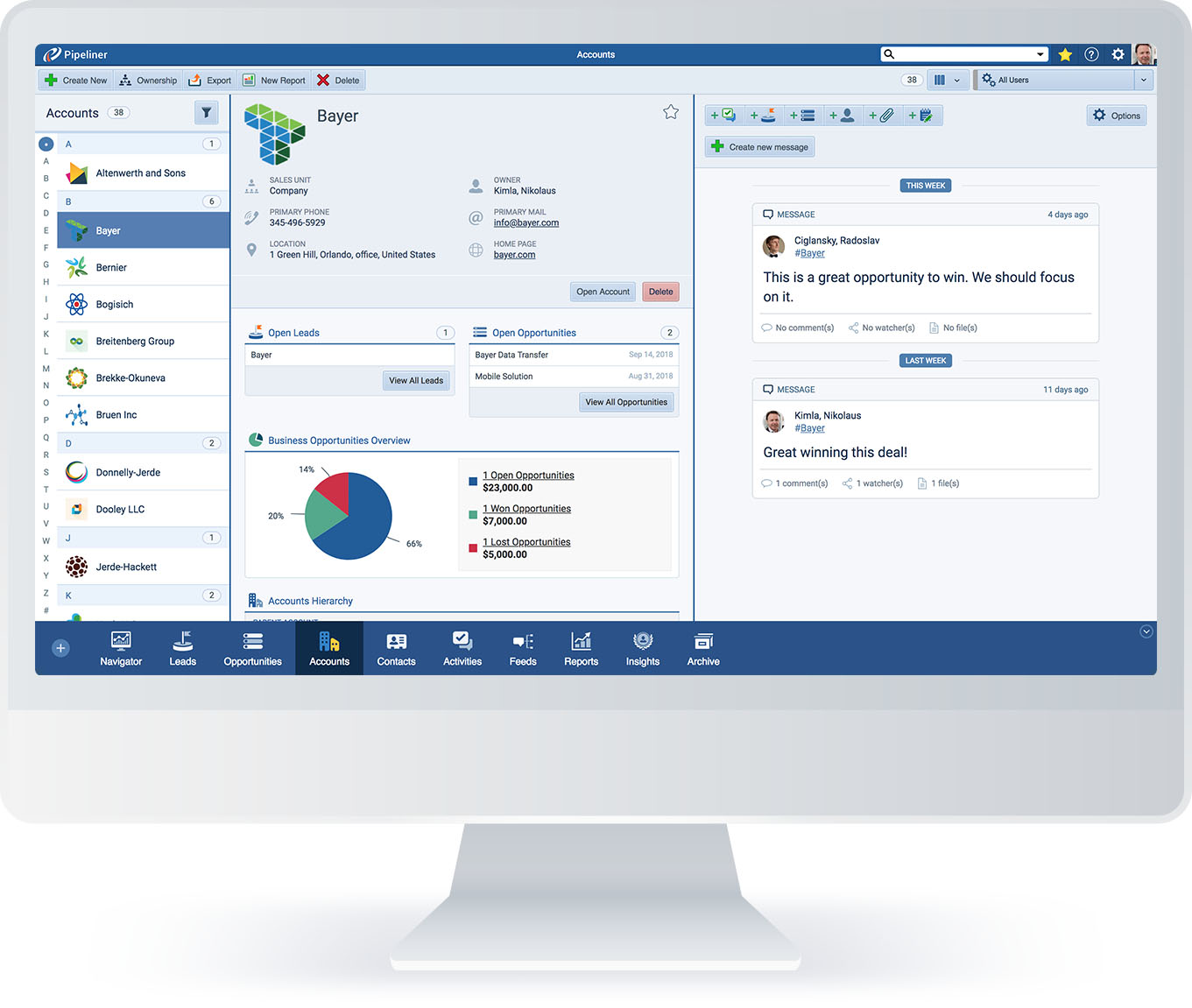 Multiple Contacts and Multiple Accounts
A contact can, in the real world, be related to more than one account. If this is the case, Pipeliner allows you to reflect that fact in CRM, too. In fact, we're the only CRM that allows you to connect multiple contacts to multiple Accounts.
Pipeliner's Auto-Profiling feature makes it easy for you to fill in contact data. Simply fill in an email address and Pipeliner will search out and add in picture, address, telephone, social accounts and more.
Additionally you can see, right away, the last time this contact was contacted, and by whom.
List View
We also have a List View feature available for contacts. You can see your contacts in a column/row format, customizable for your particular needs.
Feature Available In These Products & Plans
Starter
Business
Enterprise

Enterprise

Enterprise (in the context of sales) is a relatively large organization typically composed of multiple levels, locations, and departments which need multi-layer software systems that support collaboration across a large corporate environment.
Unlimited
For more info about Pipeliner CRM pricing plans check our Pricing Page.