Pipeliner CRM's user permissions management
Administrators will love Pipeliner CRM's User Permissions Management features—they are simple, easy and best of all, like all other Pipeliner features, visual.
Sales Units
Within sales units, administrators can manage unit hierarchy and the users that are within the units. You can select and invite users to a specific sales unit, and edit their user access rights. You can select the user roles for a user.
Administrators can also assign a Parent Sales Unit to the sales unit for users, to gain a better picture of the organization. An administrator can also filter according to a Parent Sales Unit.
From the Users view, all users are listed in one place, including those that have been deactivated. Deactivated users can be reactivated with 1 click.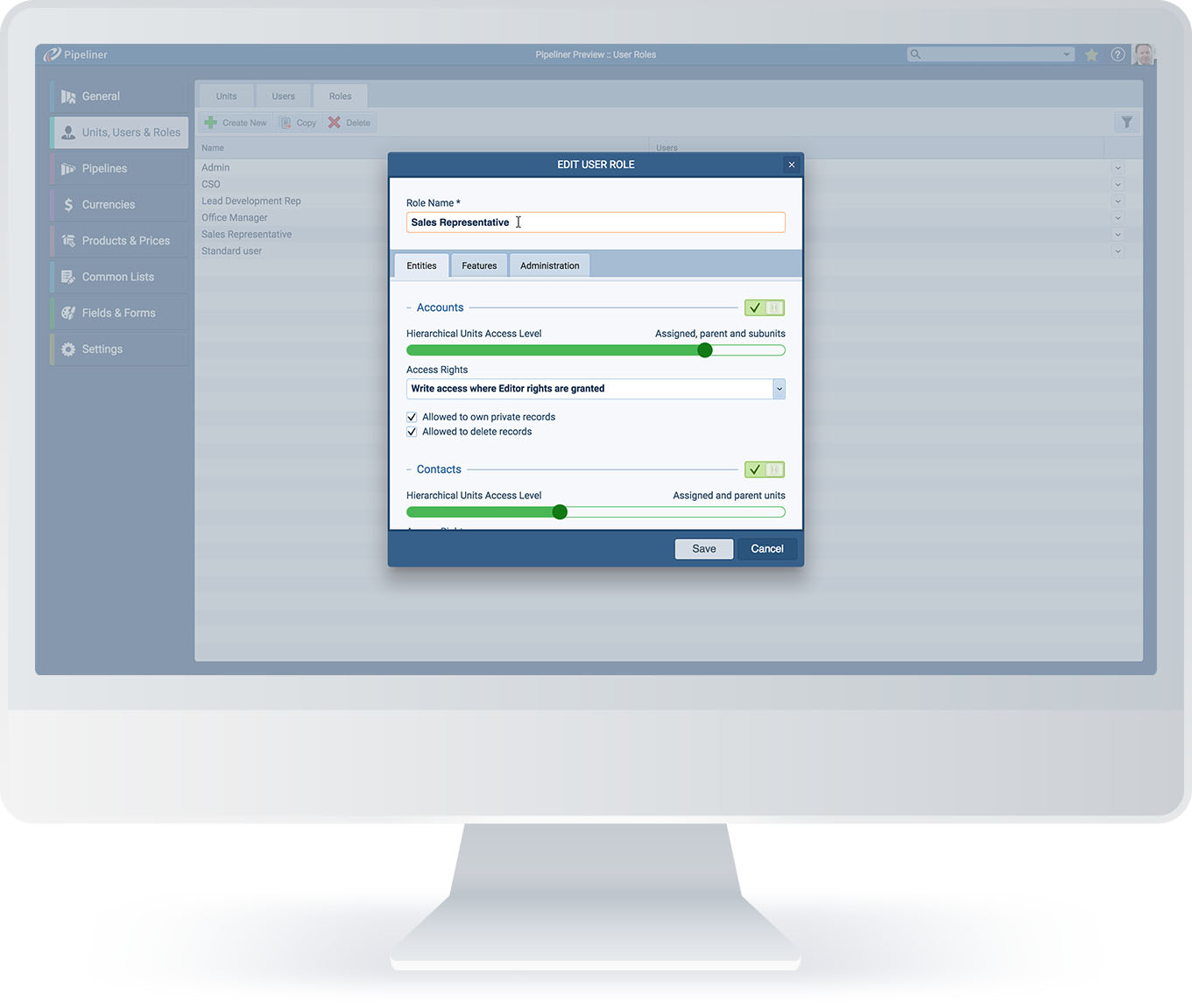 User Roles
Administrators can create User Roles within Pipeliner and then set many different properties for user roles.
Slide bars set the access level for each role, and each access level has its own rights, which the administrator can also set.
Accounts can be turned completely on or off for a role.
Probably the most significant features in Pipeliner user rights management is in relation to multiple pipelines. Pipelines are attached to User Roles, and User Roles can have access to multiple pipelines. You can also decide if certain roles will have access to documents within the stages of pipelines.
Then as regards features, you can decide which Pipeliner features this particular role can change or customize. You can also select which Pipeliner settings a particular role can change or customize.
Feature Available In These Products & Plans
Pipeliner Cloud
Pipeliner Hybrid
Starter
Business
Enterprise
Some Other Highlights:
Filter options allow you to filter and view tasks, contacts, accounts, leads and opportunities based on any field.
Simple visual elements that help you organize Pipeliner by your own preferences. No coding needed.
You can grab any element and simply drag and drop it where you need it.