As with any organization, sales leads the way in terms of revenue, therefore, no matter what else the CRM application does, it had better do an outstanding job when it comes to sales.
It all begins with leads and their management. Leads are expensive, so must be handled instantly and either moved on up the sales process, moved back into marketing (or inside sales) for further nurturing, or archived. Sales reps must be able to instantly evaluate lead value and priority so no time is wasted.
Leads then become opportunities. A CRM solution must allow accurate placement of opportunities within the company's sales process—which of course must be precisely mirrored by CRM. Ideally an opportunity can be visually inspected and prioritized several different ways so that, again, no sales rep or sales management time is wasted.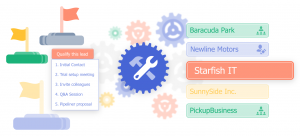 Pipeliner
Within Pipeliner, leads are scored and placed so that they can be instantly addressed by marketing, inside sales or salespeople (according to company functions). They can be dragged and dropped where needed—back to a nurturing process, forward into an opportunity, or out of the sales process into Pipeliner's unique Archive feature.
Because Pipeliner precisely mirrors your company's sales process, managing opportunities has never been easier. As with leads, they are dragged and dropped from one stage to the next. Opportunities are visually displayed so their value, ranking, time-to-close and other important factors can be immediately seen.
Pipeliner's Dynamic Target feature, also displayed right in the front of the application, keeps sales reps and management always focused on sales goals and targets. The Dynamic Target can be viewed in many different ways so that a firm grasp is always had on sales progress.
Pipeliner provides additional totally unique features for sales control and management:
Performance Insights—allowing you to compare the performance of sales teams and individuals in real time
One-click reports from any view within the application
3D Timeline bubble-chart view—a totally visual and different view of opportunities through time
Instantly customizable forms and fields so that you are always operating with correct and accurate data
View opportunities from numerous different factors, such as sales velocity