Lead Management on the Go
Leads are the lifeblood of any sales organization—and in reality, of any company. Therefore lead management doesn't just happen when a salesperson is at a desk in the office—it can and does need to happen anywhere. Pipeliner CRM's Mobile App provides Pipeliner's lead management functions such as qualifying, viewing and editing leads—right from your iOS or Android Smartphone.
For any lead, you can utilize Pipeliner CRM Quick-Views—an informative toolbar showing you the most important information regarding a lead. Simply force touch or long press on the lead you would like data on.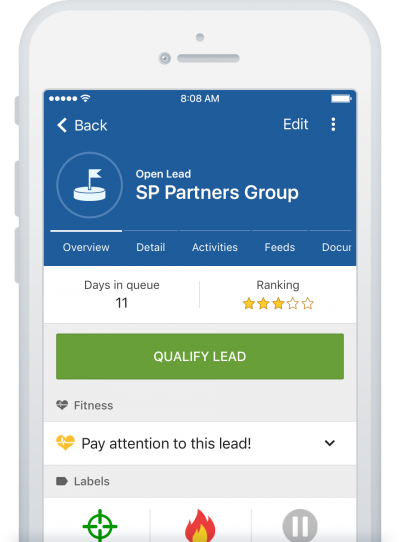 Lead Qualification on the Fly
At a trade show, conference or other similar function, you collect a lot of business cards. In off moments, you can enter the new leads into Pipeliner through the mobile app.
You're at a conference and run into Phil Smith, whose name rings a bell with you. You quickly look it up in Pipeliner mobile, and discover he's an unqualified lead. Right there in the hotel lounge, you do the work necessary to fully qualify him and turn the lead into an opportunity.
You're doing a presentation at a client site. In the room are 3 people from different departments of the company, whom you have never met. You quickly realize that they could each be their own prospect for your product or service, so you enter them as leads from the same company.
Download Pipeliner CRM Mobile App
Now put Pipeliner's most vital features always at your fingertips—with Pipeliner Mobile CRM for iOS and Android.
It's Pipeliner CRM on the go!
Check out the most advanced, intuitive and visual Mobile CRM available!