Bring Consistency To How You Sell
With Pipeliner CRM you can lay-out a sales processSales Process Sales Process is a series of strategic steps or a set of activities aimed at driving sales growth through the alignment of personnel, market insight, methodologies, relevant business units, and technology. so that your salespeople are consistently engaging with your customers and prospects in the right way at the right time.
A CRM that helps guide you through the sale
Research shows that organizations with a defined sales process combined with defined actions for each stage of the process consistently outperform all others.
Pipeliner is designed with this principle in mind. It enables you to map out your process, define key milestones and what actions should be taken to achieve them. It provides quick access to sales tools, accountAccount Account refers to a record of primary and background information about an individual or corporate customer, including contact data, preferred services, and transactions with your company. and opportunity information, as well as social feeds and visual org charts and buyerBuyer A buyer is an individual or organizational entity that purchases a product or subscribes to a service. maps. In other words, everything your salespeople need to move an opportunity from leadLead Lead refers to a prospect or potential customer (who can be an individual or organization) that exhibits interest in your service or product; or any additional information about such entity. to close in the most efficient and effective way possible.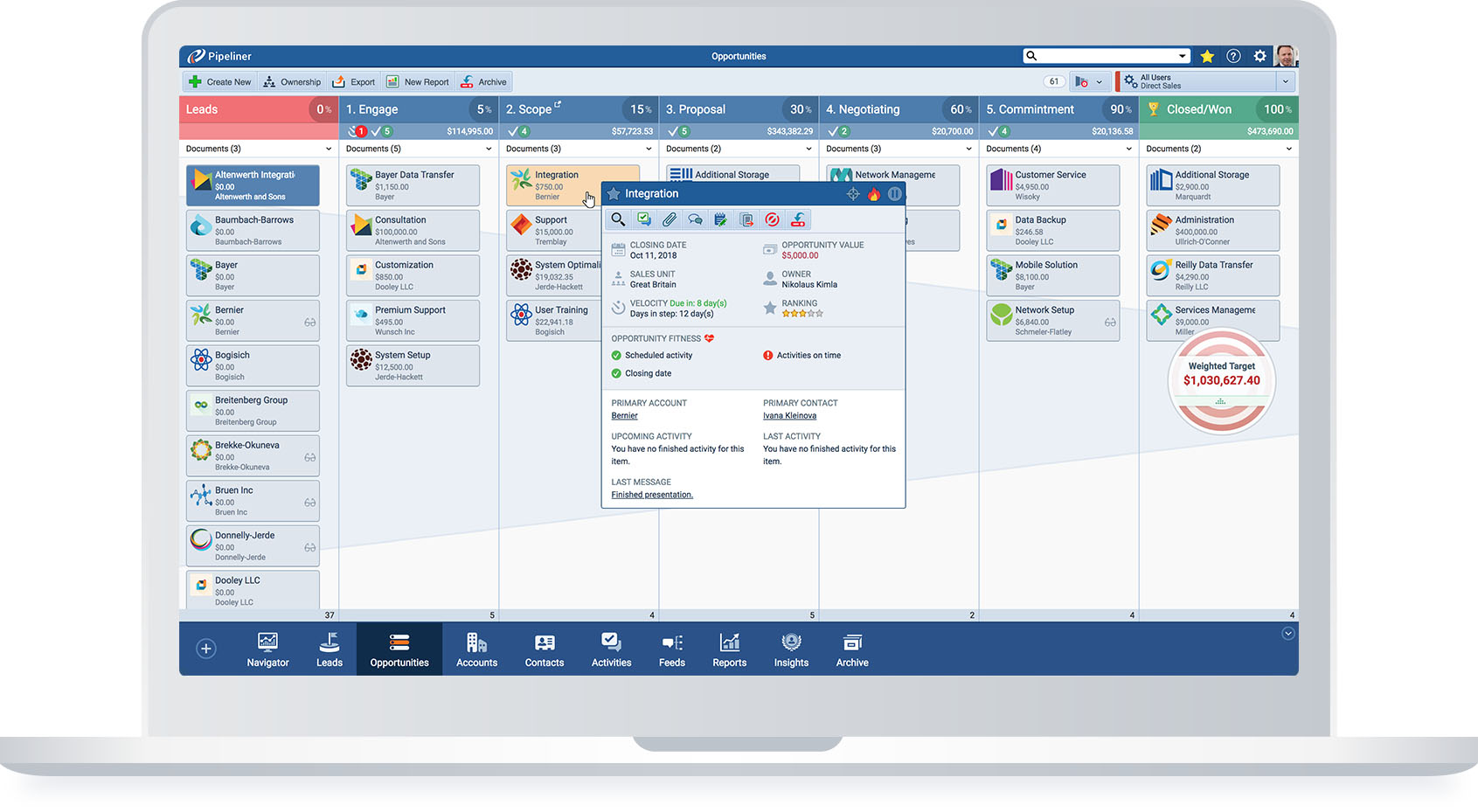 What To Do, When?
Salespeople using Pipeliner CRM always know the right actions to take and the right activities to engage in at every stage of the sales cycleSales Cycle Sales Cycle is a repeating process characterized by a predictable sequence of stages that a company undergoes as it sells its products and services to customers..
Create Your Sales Process
Sales Stages – define how many individual stages your sales process needs and then monitor with:
Alerts – Notify when Opportunities have stagnated too long in a Stage.
Reminders – Direct actions so you never miss a follow-up.
Notifications – Trigger emails when something changes.
Filters – Use filters to quickly look at specific information in your pipeline

Pipeline

Sales pipelineis a visual representation of the stage prospects are in the sales process.

.
Key Action Steps – within each sales stage define what steps needed to taken in order to move to the next stage:
Key Activities can also be defined, such as Calls, Appointments, Sending Documents, in support of each Action Step
Document Management / File sharing – Include documents at any sales stage in a familiar drag-and-drop folder system, so you always have the right document at the exact moment your prospect needs it— No more searching emails to find the files you need:
Share your documents with your sales team
Syncs seamlessly with Dropbox, Box, Google Drive.
Account Planning
Visual Organization

Organization

Organization is a cohesive group of people working together and formally bound by a shared identity (e.g., one team, company, club, etc.) and a common purpose (e.g., business growth, athletic victory, etc.).

Chart – Map out who's who in the organizations you sell into. These are generated from Contacts in your Pipeliner database and can be populated easily.
Visual Buying Centers for every Opportunity. Understand who influences your sale and how, such as Budget Holders, Gatekeepers, Naysayers, and Influencers.
Social SellingSocial Selling Social Selling is the deliberate use of online social networks as sales channels, where sellers directly engage and develop relationships with prospects by probing their needs and providing relevant and valuable insight. Activities – Stay informed about what's happening with your prospects and customers with social feeds right in their Contact Record.
Communication History / Feeds – Pipeliner keeps every communication (email, call log, notes, social & internal messages) in one place for easy tracking.
The most successful sales organizations know what to and when to do it because they have consistent, repeatable sales processes. With Pipeliner CRM, your organization now has all the tools at hand to achieve the same level of success.
Feature Available In These Products & Plans
Starter
Business
Enterprise

Enterprise

Enterprise (in the context of sales) is a relatively large organization typically composed of multiple levels, locations, and departments which need multi-layer software systems that support collaboration across a large corporate environment.
Unlimited
For more info about Pipeliner CRM personal and business plans check our Pricing Page.